Eurovan, Rialta, pop top, winabago, camper
Eurovan keys
The 1993 to 1997 eurovans do not have transponders (immobilizers) here in the usa, however some european market vans from Canada may have the immo system.
Not all 95 to 97 eurovans need a chip in the key, only European market vans
If you have a spare key that is a flat metal key, you do not have a chip, you do not need a chip key
Go to your local hardware store, tell them you have a 1996 Jetta and have a copy made from your key
If it starts the van, you only need a regular key, see www.watercooledkey.com for your choice of AH keys
If it does not start the van, you now have a hide-a-key and if the key that starts the van is lost, you can make new keys from that key.
The 1998 to 2003 do have immo systems and require the seimens rfid chip. Software programming is required at your local dealer or automotive locksmith shop.
All eurovan keys are AH profile keys just like the 1988 to 1999 volkswagen cars
lost key for 1993 to 2003 Eurovans
There are over 9000 codes. Lock codes may be found on the door handle internal part called the finger or foot, 1998 to 2003 may not have code
s marked. You may need a locksmith to take the cylinder out and make a key or send the handle to me for that service. Handle will come off the door from the outside with the door open, 3 screws, you do not take the door panel off. (it is not a Chevy)
Well..... vw has now structured the price of the flip top 7D0 half to include cutting by VIN, so you may as well order it from your dealer and get it precut. Use part number 7D0-837-246-D-AUB for the precut key to your van. No longer sold uncut! line up the programming too with the service department.
KEYS FOR 1998 TO 2003 EUROVANS
emergency key 216
Flip key 7D0 does not include remote
Lighted regular Key 219H
Remote physically modified for eurovan 753D This does not work with vans using 2 button remote non flip key
.
<- Eurovan lost key order button
for 1993 to 2003 models without a chip. Use it to get your chip key copy cut.
You must email the 4 digit code from your door lock to mark1service@comcast.net $24 and ships with tracking
4 digit lock code number is where the shadow is crossing the lock
between the black and gray part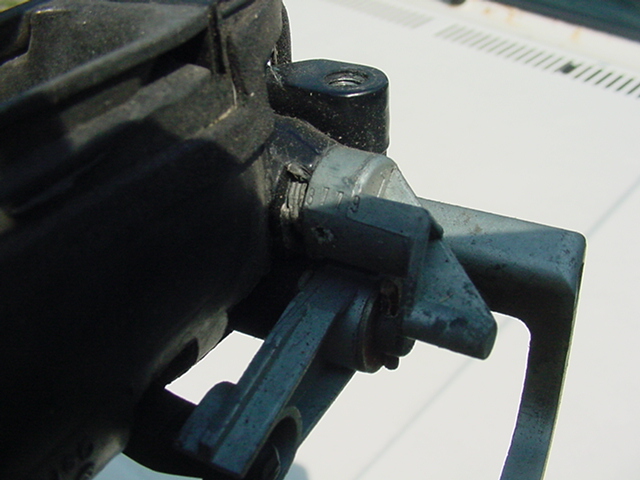 2 button remote modified for 1998 to 2003 Eurovan $70.

Does not have a red panic button on the side.

NOT COMPATIBLE WITH 2 BUTTON not flip key system
Eurovan 2 button remote 2

x 2 of them

not for use if you have a 2 button key that does not flip
These are the only items that can be ordered, send email request to mark1service@comcast.net
753D modified 2 button remote for eurovan is $70
216 Emergency key is $50 uncut 1999 to 2003
219H lighted key is $75 uncut 1999 to 2003
7D0 flip key top is $125 uncut, you can now buy the flip top from VW precut by vin for that price
Activation of the chip is needed at your local VW dealer or qualified automotive locksmith, you program the Van not the key.
Have your key copy-cut at your local hardware store or locksmith. I do not cut them.
Prices are for USA shipping, International orders will have additional postage.
Please email for multiple items or international shipping.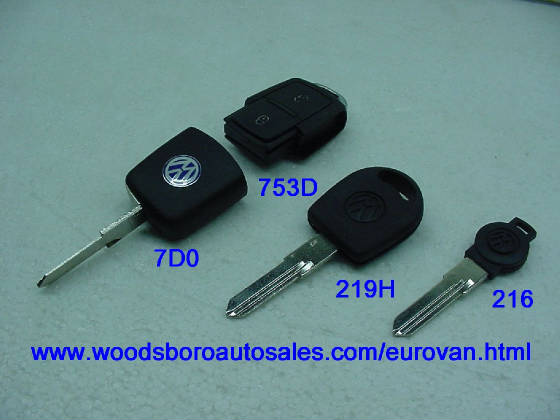 Currently, the only keys available for 1998 to 2003 eurovan are the 7D0, 219H and 216

The 753D 2 button remote connects to the 7D0 flip key (they snap together)
$495 Eurovan flip key with 2 button remote 2001 to 2003.

Only 1 left. May take 2 weeks before shipping.

Activation needed at your VW dealer. Check with your local dealer for the cost of this serice. You can now order key by vin precut from VW. Buy the remote from me, buy the key from VW.

(

Not for Rialta or vans with 2 button non flip key unless you are currently using a flip key

).